Basement Waterproofing
Are you looking for wet basement solutions in Indianapolis? Make United Dynamics, Inc. your source for basement waterproofing and look forward to superior results. We're experienced and knowledgeable basement waterproofing contractors with a commitment to quality workmanship. We'll help you get the dry basement you need and want in your home or business. Whether you're tired of dealing with basement flooding every time it rains or you have moisture issues due to a deteriorating foundation, we've got you covered. Call today to discuss your needs!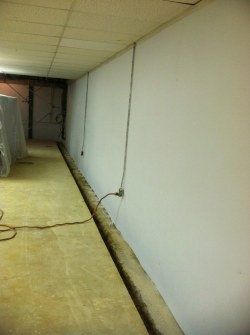 Waterproofing a basement has many benefits. It can halt mold growth, which often occurs in damp environments. It can protect your building's structure from deterioration, as well as protecting any items you store in the basement from moisture damage. It can also make the basement a more pleasant and comfortable space, which is especially important for finished basements. At United Dynamics, Inc., we'll use tried-and-true basement waterproofing tactics to ensure that your home or business remains dry, safe, sturdy, and healthy.
Our wet basement solutions include:
Installing Perma Dry interior drainage systems
Filling and sealing foundation cracks
Applying carbon fiber strips to basement walls
And other foundation repair strategies
When you contact us to discuss your waterproof basement needs, we'll take the time to get to know your situation before recommending a solution. Waterproofing a basement is not a one-size-fits-all proposition. By tailoring our services to your building's specific circumstances, we'll be able to provide exceptional results.
Licensed & Insured Basement Waterproofing Specialists
In addition to our many years of experience, United Dynamics, Inc. is proud to be fully licensed and insured. If you're looking for a qualified team to waterproof a basement at your home or business, you can count on our pros. Our track record of success and customer satisfaction is proven by our affiliations with the Better Business Bureau, the Basement Health Association, and the Building Industry Association of Greater Louisville. We'll give you basement flooding solutions that last.
Another thing that sets United Dynamics, Inc. apart from other basement waterproofing companies in the Indianapolis region is our commitment to keeping our rates reasonable and competitive. We'll be happy to give you a free cost estimate before starting the job, and we're confident you'll love our low prices as much as you love the quality work we do.
So what are you waiting for? You don't have to live with constant basement flooding or excessive dampness at your home or business, when United Dynamics, Inc. is just a phone call away! 
Dry Basement
Basement leak
Basement Waterproofing Contractor
Basement Waterproof
Basement Waterproofing Company