Foundation Stabilization
One unpleasant and unsafe result of foundation problems is that your walls can bow. If you're concerned that your foundation walls have been compromised, contact United Dynamics, Inc. right away. We're foundation repair experts, and we've been in the business since 1989. When it comes to foundation stabilization, we have what it takes to give you superior results. Whether you need foundation piering to reinforce your foundation from underneath or you're looking for solutions that straighten and strengthen your basement walls from within, we've got you covered. Call or e-mail United Dynamics, Inc. today to schedule an appointment with our foundation contractors!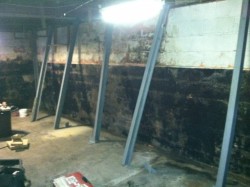 As Indianapolis' comprehensive foundation repair company, we provide many different foundation stabilization strategies to our residential and commercial customers. These include:
Foundation piering
Abe Jack system installation
Helical tieback installation
Carbon fiber strip application
Each of these methods will reduce bowing and warping, taking weight and pressure off of compromised walls and making the entire structure safer. When we visit your property to discuss your basement wall repair needs, we'll go over your options with you and help you determine which solution is best for your space. One of the reasons we're among Indianapolis' most trusted foundation repair contractors is that we don't believe in one-size-fits-all service. We'll tailor our foundation wall repair services to your specific situation.
We Guarantee Our Basement Wall Repair
At United Dynamics, Inc., we stand behind our foundation contractors' workmanship with a variety of guarantees, depending on the service provided. We always put quality workmanship first, aiming to solve your foundation problems correctly the first time. That said, if the unforeseen happens and something goes wrong with your new wall reinforcement system, we'll come back out to your home or business to make things right. We care about your satisfaction with our foundation repair contractors' work.
United Dynamics, Inc. is fully licensed and insured for commercial and home foundation repair. We're affiliated with the Better Business Bureau, the Basement Health Association, and the Building Industry Association of Greater Louisville. Those qualifications, plus our many years of experience and our commitment to offering reasonable rates, make us your best bet for pier and beam foundation repair and so much more in and around Indianapolis.
So what are you waiting for? If you're tired of dealing with bowing basement walls, unsquare windows and doors, gaps between walls, ceilings, and floors, and other structural issues in your space, United Dynamics, Inc. is standing by to take your call. 
foundation piering
structural foundation repair