Retaining Walls
Are you considering adding a concrete retaining wall to your residential or commercial property in the greater Indianapolis area? Look no further than United Dynamics, Inc. for the quality workmanship and customer service you need to get the job done right. We've been installing retaining wall systems in the region since 1989. Whether you're interested in a garden retaining wall as part of your landscaping at home or you need concrete retaining walls surrounding your business's parking lot, we've got you covered. No job is too small or too large for our retaining wall contractors to take on. Get a free cost estimate for your job by calling us today!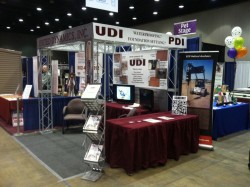 Retaining wall systems have a variety of benefits, including:
Improving the appearance of your property
Protecting landscaping and buildings from erosion
Changing terrain to allow for new construction
And many others!
At United Dynamics, Inc., we're concrete retaining wall specialists. We'll be able to work with you to create a wall that meets all of your needs, from the aesthetic to the functional. We'll carry out the job properly, giving you a beautiful and durable retaining wall system that is built to last. We stand behind every concrete block retaining wall we construct, so you can expect us to be there for you long term.
Indianapolis' Best Retaining Wall Builders
There are a variety of qualifications that set United Dynamics, Inc. apart from other retaining wall contractors in the region. We have more than 25 years of experience on the job, and we're fully licensed and insured. We're also affiliated with the Better Business Bureau, the Basement Health Association, and the Building Industry Association of Greater Louisville. All of that means we'll be able to construct a poured or block retaining wall that stands the test of time on your property.
We also strive to keep our rates reasonable. When you contact us to discuss constructing a concrete block retaining wall on your commercial or residential property, we'll be happy to give you a free cost estimate up front. We're confident that you'll find our rates to be fair, reasonable, and competitive for Indianapolis and the surrounding area.
For more information on hiring our retaining wall builders, give us a call now! We look forward to speaking with you about retaining wall installation, as well as any other concrete services you require. 
concrete retaining wall
block retaining wall
building retaining wall